Glass Walled House at Sentosa Cove
Glass Walled House at Sentosa Cove
:
Stretching out towards the ocean, this glass walled Sentosa house, by Beige Interior, draws on the surrounding natural environment, a magnetic pull of tranquility. The retracting glass doors allow indoor and outdoor spaces to interact, and rooms to interlink in extraordinary ways, plunge into the expansive pool after lounging in the deck fronted living space, and emerge at the dining area for family refreshment.
A whitewashed and beige color scheme runs throughout, complimented by oak and travertine stone. Splashes of greenery and vivid blue flood the designer glass box, blending the structure with nature by both absorbing and reflecting the trees, water and sky in this privileged seashore location. The house climbs via 'floating' oak staircase, rising by a solitary tree in the pebbled courtyard. The central hall resembles a modern art gallery with large pieces of photography and sculpture to appreciate en route to bedrooms. The master bed is separated by glass from an en-suite bathroom, allowing uninterrupted enjoyment of the scenery, no matter if you're relaxing on the bed or under bubbles in the tub.
Despite the open air effect of this outside-in architecture, the modern interior maintains a cozy atmosphere, with huge plush rugs, and soft natural tones celebrating its close-to-nature styling, and when nighttime falls you can retire to the sub level for your gym workout, or take in a movie at the home theatre.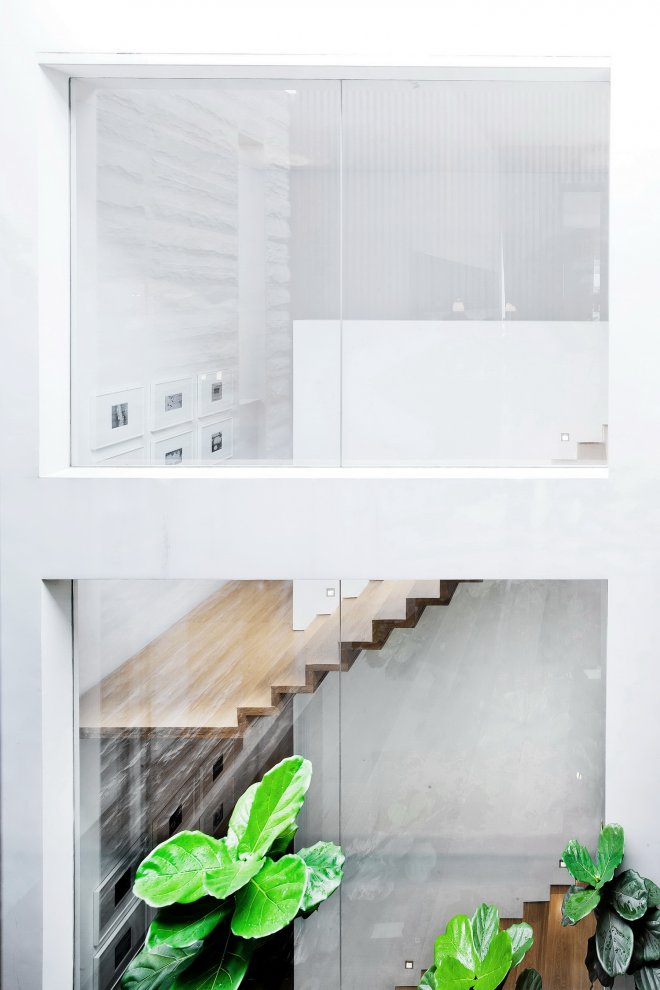 Related Posts: